The Knowledge to Win, The Values to Care
Experience matters and understanding the need of a client is essential to quality legal representation. Ector Law Firm is a hometown law firm. Attorney Brandon Ector was born and raised in Alamance County. When you hire us, you hire a home-grown attorney with the home field advantage. We work to earn the trust of our clients and ensure we exceed expectations. Brandon cares deeply for his clients and fights tirelessly for his client's legal, professional, and personal needs.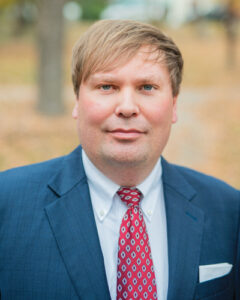 Brandon Ector
Brandon Ector formed Ector Law Firm when his partner, Andy Hanford, was elected Superior Court Judge by the citizens of Alamance County. Brandon focuses his practice in Criminal Law, Traffic Law, Family Law, and Estate Planning. Brandon is a graduate of West Virginia University College of Law, where he earned his Juris Doctorate (J.D.). He received a Bachelor of Science in Public Communication with a minor in Marketing from Appalachian State University. Before entering private practice at Hanford Law Firm, Brandon served as an Assistant District Attorney in Alamance County, where he litigated numerous misdemeanor and felony cases in both District and Superior Court. He previously worked at Shapiro & Ingle, LLP in Asheville, North Carolina, where he advocated extensively for lender's rights and represented substitute trustees in non-judicial power of sale foreclosure proceedings. Brandon and his wife live in Alamance County and love spending time at home with their adopted German Shorthaired Pointer, Beau.
Memberships & Volunteer Work
Alamance Christian School, Board of Directors (2018 – Present)
Siloam Missionary Homes, Board of Directors (2017 – 2020)
Juvenile Crime Prevention Council, By-Laws Committee Chairman (2013 – 2015, 2017 – 2019)
North Carolina State Bar, Member